Thursday, October 19, 2006
(Cross-posted at Raising Kaine and Daily Kos)
"Bloggers just sit on their butts behind their computer screens. They spend their time just talking to each other and that's fine - but they're talking to a small audience."
Although not a word-for-word quote, this was something I heard at a fundraising event I went to last night. Bear with me - the whole evening was quite positive - but that interchange (which I will detail below the fold) stood out as the key mobilizing challenge for me and, hopefully, for anyone who reads this diary.
Follow me over the fold.
I have to provide you with context for the quote, and to do that, I have to go through the event. Please bear with me.
Last week, I got an invitation to attend a fundraiser hosted in the home of a prominent Arlington-area couple (Arlington Virginia). The invitation said that both Tim Roemer and James Carville would be the guest speakers at the event, and they were. I'm fortunate enough that I had the money to attend what would be considered a pricey event. I had always intended to make a sizable donation to add to my other donations, and what the hey - this way I could make the donation and get to stargaze a bit.
The event was sponsored by the Arlington County Democratic Committee, which falls in Virginia's 8th Congressional district.
See that big green area of the 8th? That's primarily Arlington County and Alexandria City. That's NOT where I live - if you go up into the off-shooty area north and west, as far as you can possible go and still be in the 8th, that is where I live.
So with that as a context, let me begin. Arlington County has a healthy and active Democratic party. In other words, it's always been super-blue. Where I live, it's more pale blue, but still blue (and hopefully gaining in blueness). I've been to some of these types of fundraisers before, specifically for Mark Warner and Tim Kaine. Everyone knows everyone at these things, except me. That's no problem - I set my mind to go, give my money, mingle, and meet some like-minded folks IRL.
This event was no exception - didn't know a soul. When I told people that I lived in Reston, I might as well have been telling them that I lived in France. Don't get me wrong - the reception was enthusiastic. I'm in the 8th as are they, and we're all pushing and pressing in the final days to overcome George Felix Allen and get Jim Webb (DONATE) into the US Senate.
It was uncharacteristically warm last night, and the overwhelming number of bodies in the house (which was a beautiful home, by the way) made it quite sticky. So I wandered out onto the patio and engaged the bartender (shocker - I find the bartender first!) in a conversation while I eat my lovely complimentary appetizers. The bartender is a young guy. I'd put him at about 22. He was a volunteer from the Young Democrats - ALL the staffers were volunteers from the Young Democrats. He was a funny, bright and open young man who clearly shows a sense of urgency around pushing Jim Webb (DONATE) over the hump. Being heavily involved in the campaign, his message was clear: Voter turnout will decide this race. Period. Given that Northern Virginia is any one of a number of shades of blue, voter turnout in this area especially is critical. Key to that crucial goal is on-the-ground volunteers. I couldn't agree more.
From there I went back into the big, airy living room (did I mention that the house was beautiful?) and sat down with my glass of Chardonnay. A lovely outgoing woman sat next to me. Meet Ingrid Morroy, Arlington's elected Commissioner of Revenue.
That's Ingrid on the right. We got chatting. In her eyes, of course, there are two big issues critical to getting Jim Webb (DONATE) elected on November 7 - money and turnout. Again, there was a sense of urgency in our conversation. It was a feeling like we are so close - the smallest things in terms of donations and GOTV volunteering will make the difference. Again, I couldn't agree more.
I had a small, purse sized notebook with me, and when we had a break in our conversation, I pulled it out and readied myself for the high-visibility speakers. I can't remember who asked me if I was a reporter - but I told them that I wasn't, but that I was a blogger and had every intention of writing up the evening. This turned us to the subject of blogs, and I was asked where I would post this - I told them I hoped to post it at Daily Kos and Raising Kaine, time permitting. Everyone knew Raising Kaine - lowkell has done an outstanding job of bringing in those who are not especially in the blogosphere. Some had heard of Daily Kos, but you could tell it was not a place where any (that I could identify) spend their time. Ingrid, however, was absolutely all for the blogs and for posting this at Daily Kos. I told her that I had hoped it would encourage those with even a small amount of money who live in districts where a Democrat doesn't need the funding to throw some of that money at Jim Webb (DONATE). She wholeheartedly agreed - every dollar is going to make or break the difference.
Then Alfonso Lopez, Governor Tim Kaine's Director of the Virginia Liaison Office in Washington, D.C., stepped up and began the introductions. He thanked everyone for coming and underscored the fact that this election required people to do more than just give money to succeed - they had to GOTV. He introduced Larry Roberts, Counselor to Governor Kaine who in turn underscored the GOTV message (seeing a pattern here?). Roberts then introduced the first guest speaker, Tim Roemer, current President of the Center for National Policy, member of the 9/11 commission, and former Representative from Indiana's Third district.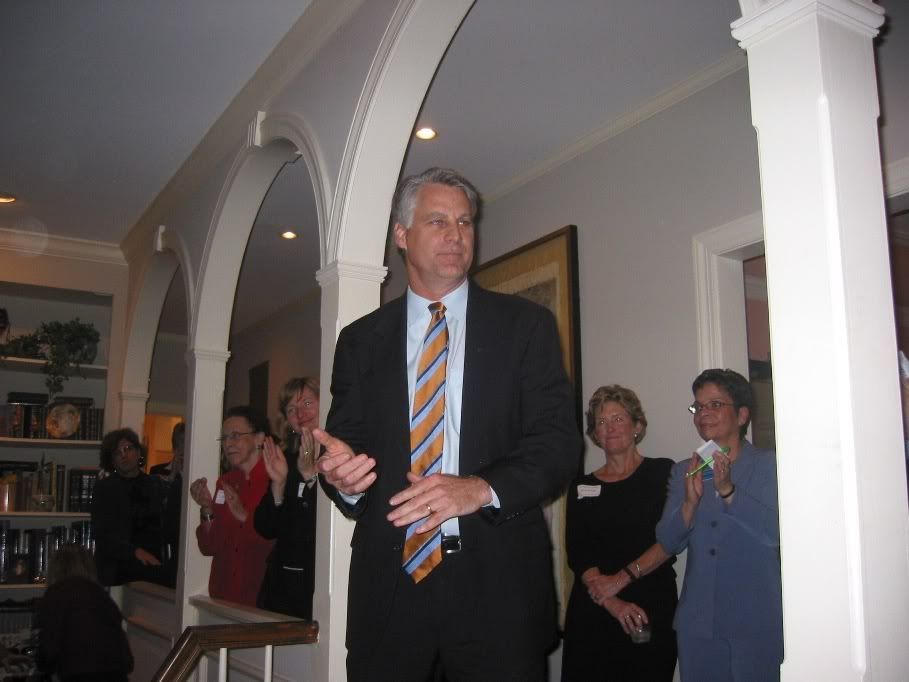 Roemer was an excellent speaker - very engaging, very focused on putting Democrats into Congress this election cycle. He's been travelling all over the country on behalf of Democrats, keynoting fundraisers and doing what he could do. A few key highlights of his talk:
He told a funny story about when he first ran for Congress. He said that people always confused him with then-Governor of Indiana Evan Bayh. So Roemer's at some state fair, by himself, handing out brochures trying to drag down votes. As he's standing there, a man comes up to him and says:

"Governer Bayh! It's great to see you here! If there's anything I can ever do to help you, let me know."

To which Roemer said:

"You know, you can help me. You can make sure you get out and vote for Tim Roemer for Congress." Heh.

He also related a story about Flight 93 that I had heard before, but not quite in this way. I found it remarkable.

He told about the Flight 93 passengers and how they seemed to think, immediately following the hijacking, that they were going to Cuba. As they were making calls, however (and we all know this story), they found out from their loved ones that they were likely not going to Cuba - that their plane had been hijacked and was going to be flown into buildings. Then, faced with this dire information, they did what Americans have done for 230 years: They voted. They took a vote and decided that they were going to do whatever it took to take back that airplane or die trying.

They voted.

Finally, he made an obvious point (at least obvious to anyone reading this) but in a way that really resonated. He talked about the 41 9/11 Commission Report recommendations, and about how only half of those have been implemented. Of those half, they have executed poorly. And he asked: if you have two children, is it OK for the government to say that it will educate only one of them? When your trash is picked up, is it ok if half of it is left at the curb?

I really thought that was a common-sense way to underscore the ineptitude of the Bush administration and the Republican Congress in a way that Joe Voter could fully understand.
And then it was on to James Carville. Let me digress by saying that, for a relatively small man, his presence dominated the room for the whole of the evening, whether he was speaking or not.
What was powerful about James Carville was not necessarily what he said - it was the power and conviction with which he said it. At times he was downright angry:
He was absolutely incensed at a Dick Cheney quote from Rush Limbaugh's show.

Cheney: "Things in Iraq are going remarkably well."

[audible groans in the room] Carville said that what made him angry was the utter contempt with which that statement was made by Cheney. Cheney knows its not going well - and the majority of Americans believe it's not going well. Yet he goes on Limbaugh's show and shows utter contempt for every American by saying this. I definitely thought he had a point - an obvious one - but I spend most of my time thinking Cheney's an asshole without necessarily communicating to others that he is a contemptuous asshole.
Then he told the story of the Cuban Missile Crisis that many have heard, but some may not, so I'll summarize:
In 1962, the U.S. was engaged in a game of chess with the Soviet Union, who were planning to put missiles in Cuba, a mere 90 miles from the U.S.

Then Presdient John F. Kennedy sent Secretary of State Dean Acheson to France to enlist the support of the French people. In a meeting with the legendary Charles DeGaulle, President of France, Acheson asked for France's support. As the meeting continued, Atchison started to pull some documents out of his briefcase. DeGaulle stops him - Acheson indicates that he has photos - proof - that Cuba was planning to have these missiles. Whereupon DeGaulle famously said:

"I don't need proof. I have the word of the President of the United States." (paraphrased)

Carville then stated passionately that the word of the POTUS today is "literally meaningless" and "discarded".
And with that, the event was over. Tim Roemer was incredibly gracious and stuck around to answer questions.
Now - let me say that I was taking copious notes during the remarks by the speakers generated interest. I caught sideways glances, not unfriendly ones, that looked askance. I was amused with the idea that someone might have thought I was "legitimate" press.
With that as a backdrop, I mentioned above that Tim Roemer stuck around to answer questions. There was a small respectful group gathered around him, and I went to join in to hear what was being asked and what was being said. Mr. Roemer was underscoring the critical importance of the GOTV effort in Virginia this year. He was basically relating his experiences with the Republican GOTV effort and said that, about two weeks before the election, a local Republican canvasser would knock at someone's door. And that canvasser would be the coach of the soccer team that the household's children played on. The canvasser would address them by name, ask after their children, and then ask how they would vote and pitch his case for his candidate. Then he would come back right before the election and ask how they were going to vote.
I can't remember who said it, but earlier in the evening this point was made: "We have to out-work them. We have to want this more than they do."
At this point I chimed into the conversation talking about the Netroots and the blogosphere and how much emphasis they are placing on the GOTV effort. That's when I got "the comment". (NOTE: The comment was made by another person like me - a donor and attendee - he was NOT affiliated with Roemer or Carville - just your average guy attending a fundraiser) I want each of you to understand, however, that this was in no way said scornfully - rather, it was just put out there as common knowledge:
"Bloggers just sit on their butts behind their computer screens. They spend their time just talking to each other and that's fine - but they're talking to a small audience."
Not this time. HELP ME prove this guy wrong. If you've given money, do more. Google your candidate and find the address and phone number for the campaign office. Call it. Show up there if possible. Demand that they put you to work. If you live in an area where the Democratic candidate is safe and there isn't need or organization for GOTV, go to ActBlue Netroots page and make a donation, no matter how small. Consider giving to Jim Webb - he needs it. Allen is saturating the airwaves with negative and misleading ads.
You also can phone canvass, even if your district or area is not competitive (e.g, you have an uber-safe Democrat running). Take Markos' advice and participate in MoveOn's Calls for Change.
Out-work them. It's what will make or break this election.
A special note for No. VA and DC area Kossacks:
Webb for Senate
1916 Wilson Blvd, Ste. 304
Arlington, VA 22201
Two short blocks from Courthouse Metro Station on the Orange Line
(703) 778-4080
Show up there - the canvassing I've done has been the result of just showing up. If you DO show up, though, be sure you take the phone number as you may have to call them to let you in. Demand they put you to work. Do more than you thought you could do - it's what will make the difference.
We have 19 days.
Update [2006-10-19 13:10:46 by RenaRF]: Edgery has left this comment below - FULL of information about Webb efforts across VA.