Wednesday, August 31, 2005
My Letter to the President
(Cross-posted everywhere)

Dear Mr. President,

Like most Americans, I am watching the horror unfold in the aftermath of Hurricane Katrina. Also like many Americans, I have felt a deep and strong pull to respond in any small way that I can. For me, it has been through fundraising and through getting the word out as to how people, good American people, can respond and lend even a small hand in helping deal with such a great tragedy.
The tragedy itself, though, says a great deal not only about the generous spirit of Americans but about you on two critical levels. The first would be on a leadership level, and the second would be on a human level.
They say that the measure of a great leader is gauged not by how he handles the 90% of events that are anticipated and expected, but by how he responds to the 10% that is utterly unforeseeable. Hurricane Katrina would fall into that rare, unforeseeable category and your actions before, during and now after this event are very telling of your leadership.
The devastation that continues to unfold and worsen in the hurricane's aftermath put me in mind of other disasters, man-made and otherwise. Most specifically, the specter of 9/11 came before me very clearly. The relief that poured in to New York City and Northern Virginia following that tragic day were unprecedented. Events seemed to overwhelm reality and relief was poured into the areas affected. People knew where they could go for help. The infrastructure was in place to accommodate even the unforeseen. Frankly, I consider it nothing short of a miracle that things worked the way they did on 9/11. We were very lucky in that regard.
The relief coordination around Katrina has been abysmal. People don't know where to go. They don't know what to do. They have no information. No one can seem to agree on how to handle staunching the flow of water into New Orleans. The military is scrambling to assemble its assets effectively to provide the most basic of medical and sustenance needs. Don't mistake my tone - I have the greatest respect for the individuals who are risking their lives and safety to save the lives and secure the well being of survivors - but they are fighting an uphill battle because the coordination is simply criminal. The lives that will be saved in the coming days will be saved through the sheer power of human compassion carried by the individuals on the scene. The lives that could have been saved yet will be lost will be the price of terrible coordination. I lay that responsibility squarely at your feet.
Let me extrapolate somewhat and tell you that Katrina could have been any domestic disaster. The levees of New Orleans could have been compromised by a terrorist attack. A coordinated terrorist attack could have gone off in the Gulf region yielding devastation on par with what Katrina wrought. Refineries and chemical plants in the region could have been attacked through terrorist methods. The list of possibilities is endless.
So I ask you - how is it that, in post-9/11 America, we are failing so completely to render aid and comfort? How is it that today, this last day of August 2005, nearly four years after 9/11, we have no cohesive plan to deal with the region's refugees, the potentially one million American citizens without work or a home or basic care? That speaks directly to your leadership, sir, and it doesn't speak well for it at all.
The decisions that you have made in your capacity as President and leader of the United States of America have real human costs and implications. The decision to go to war in Iraq has directly affected the response to this disaster in overt and subtle ways. The deployment of Guardsmen in Iraq has left the affected states with fewer resources at a time when they need them the most. The decision to go to war in Iraq and the lack of planning to deal with the aftermath of the war has directly affected the stability of oil prices, which in turn affects every American. A disaster such as Katrina further strains a system that, through bad policy, is already too volatile to accommodate additional trauma. The decision to institute tax cuts at a time when we, as a Nation, should be planning for the worst-case scenarios of unexpected events has left cities and states and regions without the resources they need to effectively plan for and respond to disasters of any variety.
A certain component of the disaster caused by Hurricane Katrina was unavoidable. But there is also a component that better leadership and some degree of forward-thinking would have prevented. Those deaths and tragedies should be laid at the foot of your short-sightedness and bad leadership. You should have to look at it. Perhaps it will be a reminder and you will act to prevent such things in the future.
I told you that I thought that this disaster said something about you on two levels and the second one is on a personal level. Your voice has been remarkably absent as the horror in the Gulf region has unfolded. Press clippings have shown you going about your planned events. You have given lip service to the devastation at certain points, but your actions speak louder than any words you can utter. A human response to this would have been to curtail matters of personal policy (stumping for support for the war in Iraq; the ghastly comparison of World War II with the war in Iraq; your baffling decision to do a photo opportunity with the Presidential guitar) and show an appropriate amount of respect for the lives being lost even as you plucked the strings.
Average Americans like me - who work for a living every day in this country - who don't have the luxury of a month-long vacation - took what little free time and disposable income we have and sprung into action. We raised money. We spread the word. We assembled information on what was needed and by whom and the best way to get it there. We felt - we watched our televisions and we cried at the tragedy we saw before us. Our response was so quintessentially human that your lack of it makes me wonder if we belong to the same human race.
So I'll leave you with this. A word image. You're in the dark, Mr. President. You can feel something pressing against the crown of your head - it's the roof of your attic. You're in water up to your neck. The water is filthy - you're surrounded by it - it's stiflingly hot in the little airspace you occupy. You're hungry and have nothing to eat. You're thirsty, dangerously dehydrated but you can't drink the very thing which may claim your life. Below you is everything you had. All your possessions - underwater. You don't know where your wife and children are and if they survived. You pray, Mr. President. Every time you hear what sounds like a boat or a helicopter you pray that someone will sense that you are under that roof needing help. You're too weak and too constrained by the space you occupy to signal for help. You have to wait, and as you wait, the water rises. If you're lucky, someone will find you. If you aren't, you'll die that slow, horrifying and frightening death. Alone.
Feel like playing us a tune now?
Respectfully,
RenaRF

[editor's note, by RenaRF] Postscript: SusanHu rightfully points out that I should link to yesterday's Disaster Relief Diary, which raised about $8,500 for relief from this community alone.

You've Come This Far - So Read more & Comment!
Tuesday, August 30, 2005
Action Needed - Relief for Hurricane Victims


The American Red Cross

Donation Link: Click here and select 'Donate Now'.

Relief focus: The Red Cross provides a full spectrum of services to disaster victims. From assistance with shelter, medical care, food, clean water and cleanup efforts, the Red Cross is an organization poised to assist in circumstances such as this.




Feed The Children

Donation Link: Click here and follow the donation link.

Relief focus: Feed the Children has long been competent at mobilizing and distributing supplies to disaster victims and victims of famine and disease. They are currently mobilizing a massive relief effort by gathering needed supplies and getting them to hurricane devastated areas.




The Salvation Army

Donation Link: Click here and follow the donate on line link.

Relief focus: The Salvation Army is prepared to provide 400,000 hot meals a day to displaced disaster victims and emergency personnel working to aid those devastated by Hurricane Katrina. They also provide a means for individuals to physically volunteer their time and assistance in the relief efforts.




United Jewish Communities

Donation Link: Click here and choose upper-right Katrina relief links.

Relief focus: Community organized and administered humanitarian relief for disaster victims.




Catholic Charities USA

Donation Link: Click here and follow instructions to donate online, by mail, or by phone.

Relief focus: Community based relief efforts focused on the long-terms needs of disaster victims and affected communities.




United Methodist Committee on Relief

Donation Link: Click here and follow the 'Donate Now' link.

Relief focus: Although they provide general community-based disaster relief, they are also focusing on the creation and distribution of "flood buckets", a more hands-on relief item for those who prefer to donate with a personal touch.





Noah's Wish

Donation Link: Click here and scroll to the bottom of the page.

Relief focus: Noah's Wish is a not-for-profit, animal welfare organization, with a straightforward mission. We exist to keep animals alive during disasters. That's it.





Humane Society of the United States

Donation Link: Click here.

Relief focus: Dispatching Disaster Animal Response Teams (DARTs) to rescue animals and assist their caregivers.



ASPCA

Donation Link: Click here and choose the type of giving you prefer.

Relief focus: Although they do not yet have anything specific to Katrina up on their site, the ASPCA sends emergency relief to animal shelters when natural disasters occur.




North Shore Animal League America

Donation link: Click here and select 'Donate'.

Relief focus: NSAL America has an emergency response team that is ready to respond in the event of an emergency. In 2004, we responded to the devastating hurricanes in the south.




United Way

Donation Link: Click here and follow Katrina donation links.

Relief focus: United Way is leading response and recovery efforts by working hard to identify the most serious needs of devastated communities and is committed to helping not only with front-line disaster relief but with long-term recovery—those needs that are often not addressed in the days, weeks and months following a disaster.




America's Second Harvest

Donation link: Click here.

Relief focus: They expect at least ten food banks and hundreds of related agencies will be hit by hurricane 'Katrina'. Their Network is in great need of funds to transport food to victims and secure additional warehouse space to assist our Member food banks in resuming and maintaining operations.




Direct Relief International

Donation link: Click here and select 'Support Us'.

Relief focus: Because of the organization's extensive medical inventories, Direct Relief serves as a private back-up support to official emergency response efforts in the United States.




Habitat for Humanity

Donation link: Click here and follow the Katrina link.

Relief focus: Helping disaster victims rebuild piece by piece and house by house.

The Better Business Bureau's Give.org site can help you decide which charity if you are torn. They have reports available on major charitable organizations and, in some cases, detailed information on a charity's organization and administration.


Now is definitely the time to reach out and help these victims. This is not a political issue, as many commenters to this blog have reinforced. I hope you find this a useful resource.
You've Come This Far - So Read more & Comment!
Monday, August 29, 2005
Katrina Still Active - Sorting the Aftermath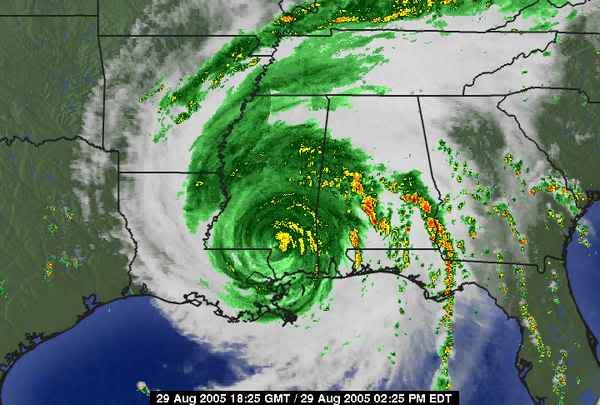 I suppose an exhale of relief is called for where Katrina is concerned. Yet somehow I don't know if that's appropriate - the devastation that seems to have
narrowly missed
New Orleans did NOT narrowly miss Gulfport, Mobile, and other parts of the Louisiana/Alabama/Mississippi shoreline. Moreover, the hurricane is still a hurricane as it tracks inland and northward into areas much more poorly equipped to deal with hurricane damage. In the recent past, hurricanes like Ivan hit as a category three and quickly lost power and punch before moving out over land - not true with this one. It hit with such force and power that it's still a hurricane even though the eye is well over land.
Photographs of damage a
re now starting to come in. I have a few from the AP that show pictures from New Orleans. While the eastward "wobble' that nudged Katrina away from catastrophic damage to New Orleans, the damage is still extensive. Buildings, businesses, homes and livelihoods have been severely disrupted if not destroyed. Bear in mind also that, demographically speaking, the areas hit by this storm are typically poorer areas.


Another casualty of this particular hurricane is the US oil market. The Gulf shore is responsible for 20-30% of domestic oil supply and refining. CNN is reporting that two production facilities tore loose during the hurricane, and that a facility responsible for handling oil from

other

countries w
as shut down on Saturday. Estimates are that supply could be affected by as much as 10%, which caused oil prices to surge over $70 a barrel this morning. There is still question as to whether or not the President will ease the rapidly increasing prices experienced by consumers by announcing his intent to augment supply from the US strategic oil reserves. Let's hope someone does something soon - the average middle-class American is already in a position where they are choosing between necessities such as gas, food, and healthcare. It's a crisis that can't be avoided, but it's blow can be blunted through sound policy.

The best charity, it seems, to handle disaster relief is the Red Cross. You can find a link to their donation page here. You can choose whatever amount you donate to go to disaster relief. I will keep this updated as well with any local-needs and calls-for-goods types of requests.
You've Come This Far - So Read more & Comment!
Hurricane Katrina Comes Ashore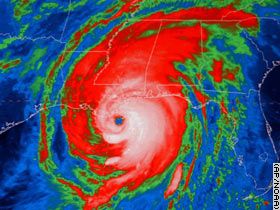 One area's good news is another's tragic news. The overall good news: Hurricane Katrina weakened
slightly
overnight and levelled out as a strong category 4 hurricane.
As I type this, the worst of the storm is hitting New Orleans, Louisiana. The storm "wobbled" before making landfall, however, and struck slightly
east
of New Orleans. That's excellent news for the Crescent City and devastating news for areas such as Gulfport and Biloxi, Mississippi. The most intense portion of a hurricane is in the eyewall of the storm. If you drew a cross through the eye of the storm and beyond with the cross intersection at the center of the eye, the upper-right quadrant created by the cross woud be THE most intense and damaging. The eastward jog took the worst of the storm surge and winds away from New Orleans, which may yet be spared devastation.
Our attention now shifts to Missippi and other smaller towns impacted by that upper-right quadrant of intensity. I'll edit this as updates come in.


Update: the roof of the Superdome, which is currently sheltering about 10,000 New Orleans area residents and visitors, has experienced some damage and some sections have blown away, causing water to enter the dome itself. So far reports say everyone is safe, however.

10:15am EST update: Reports are coming in that the Mississippi River levee in the French Quarter of New Orleans has been compromised. Areas in and around New Orleans are flooding. Distress calls are coming in from individuals who are trapped in rising floodwaters, though these reports remain unconfirmed. When a mandatory evacuation is ordered, citizens who choose to remain behind in their homes are not guaranteed emergency response. Emergenchy personnel will not additionally be placed at adverse risk and therefore many of these people are on their own.



You've Come This Far - So Read more & Comment!
Sunday, August 28, 2005
Oh my God.
You've Come This Far - So Read more & Comment!
Killer Hurricane
You've Come This Far - So Read more & Comment!
Saturday, August 27, 2005
Cindy Sheehan
You've Come This Far - So Read more & Comment!
Thursday, August 25, 2005
Entertainment With A Conscience
You've Come This Far - So Read more & Comment!
Recommended Progressive Reading
I have a quick entry to suggest progressive titles to everyone out there. Each of the graphics is hyperlinked to the Amazon.com entry for the book itself. I highly recommend each of these, in no particular order, but would consider the first one, the Lakoff book, absolutely required reading. If you've read something progressive-oriented that I have missed, by all means - please include it in the comments.
You've Come This Far - So Read more & Comment!
Wednesday, August 24, 2005
Choosing a Progressive Metaphor
You've Come This Far - So Read more & Comment!
Topical News Items
You've Come This Far - So Read more & Comment!
Welcome to On The Left Tip
The very edge of progressive politics. I'm glad you're here.
You've Come This Far - So Read more & Comment!