Monday, August 29, 2005
Hurricane Katrina Comes Ashore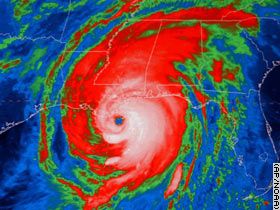 One area's good news is another's tragic news. The overall good news: Hurricane Katrina weakened
slightly
overnight and levelled out as a strong category 4 hurricane.
As I type this, the worst of the storm is hitting New Orleans, Louisiana. The storm "wobbled" before making landfall, however, and struck slightly
east
of New Orleans. That's excellent news for the Crescent City and devastating news for areas such as Gulfport and Biloxi, Mississippi. The most intense portion of a hurricane is in the eyewall of the storm. If you drew a cross through the eye of the storm and beyond with the cross intersection at the center of the eye, the upper-right quadrant created by the cross woud be THE most intense and damaging. The eastward jog took the worst of the storm surge and winds away from New Orleans, which may yet be spared devastation.
Our attention now shifts to Missippi and other smaller towns impacted by that upper-right quadrant of intensity. I'll edit this as updates come in.


Update: the roof of the Superdome, which is currently sheltering about 10,000 New Orleans area residents and visitors, has experienced some damage and some sections have blown away, causing water to enter the dome itself. So far reports say everyone is safe, however.

10:15am EST update: Reports are coming in that the Mississippi River levee in the French Quarter of New Orleans has been compromised. Areas in and around New Orleans are flooding. Distress calls are coming in from individuals who are trapped in rising floodwaters, though these reports remain unconfirmed. When a mandatory evacuation is ordered, citizens who choose to remain behind in their homes are not guaranteed emergency response. Emergenchy personnel will not additionally be placed at adverse risk and therefore many of these people are on their own.



posted by RenaRF at 8:22 AM