Monday, August 29, 2005
Katrina Still Active - Sorting the Aftermath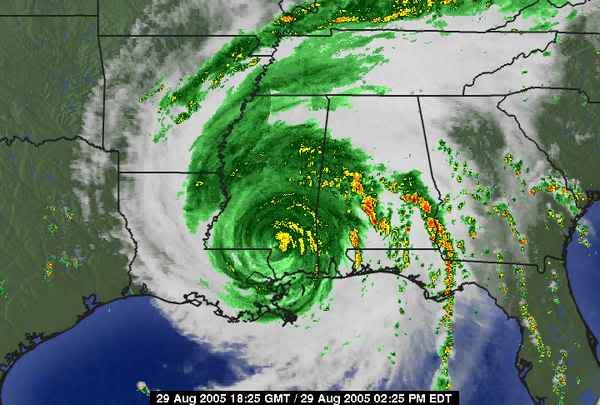 I suppose an exhale of relief is called for where Katrina is concerned. Yet somehow I don't know if that's appropriate - the devastation that seems to have
narrowly missed
New Orleans did NOT narrowly miss Gulfport, Mobile, and other parts of the Louisiana/Alabama/Mississippi shoreline. Moreover, the hurricane is still a hurricane as it tracks inland and northward into areas much more poorly equipped to deal with hurricane damage. In the recent past, hurricanes like Ivan hit as a category three and quickly lost power and punch before moving out over land - not true with this one. It hit with such force and power that it's still a hurricane even though the eye is well over land.
Photographs of damage a
re now starting to come in. I have a few from the AP that show pictures from New Orleans. While the eastward "wobble' that nudged Katrina away from catastrophic damage to New Orleans, the damage is still extensive. Buildings, businesses, homes and livelihoods have been severely disrupted if not destroyed. Bear in mind also that, demographically speaking, the areas hit by this storm are typically poorer areas.


Another casualty of this particular hurricane is the US oil market. The Gulf shore is responsible for 20-30% of domestic oil supply and refining. CNN is reporting that two production facilities tore loose during the hurricane, and that a facility responsible for handling oil from

other

countries w
as shut down on Saturday. Estimates are that supply could be affected by as much as 10%, which caused oil prices to surge over $70 a barrel this morning. There is still question as to whether or not the President will ease the rapidly increasing prices experienced by consumers by announcing his intent to augment supply from the US strategic oil reserves. Let's hope someone does something soon - the average middle-class American is already in a position where they are choosing between necessities such as gas, food, and healthcare. It's a crisis that can't be avoided, but it's blow can be blunted through sound policy.

The best charity, it seems, to handle disaster relief is the Red Cross. You can find a link to their donation page here. You can choose whatever amount you donate to go to disaster relief. I will keep this updated as well with any local-needs and calls-for-goods types of requests.
posted by RenaRF at 1:45 PM