Thursday, September 22, 2005
Good God.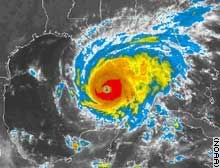 Not again. Hurricane Rita remains a strong Category 5 storm. When last I checked, it's internal pressure was down to 898mb of pressure, making it the third worst hurricane one record behind Gilbert and the great Labor Day hurricane of 1935. It's aiming directly for Galveston as of the 5am EST track.
I wouldn't be happy about this in
any
case - BUT - I have family evacuating from that area. My Grandmother, three uncles, three aunts and six cousins all live between Galveston and Houston. My grandmother and two sets of uncles, aunts and cousins have an evacuation plan - my one aunt is an emergency nurse who has to stay putg as a first responder. Her husband and their kids are NOT evacuating. I think it's a mistake and I've told them so but they're going to ride this out.
posted by RenaRF at 5:37 AM