Wednesday, October 26, 2005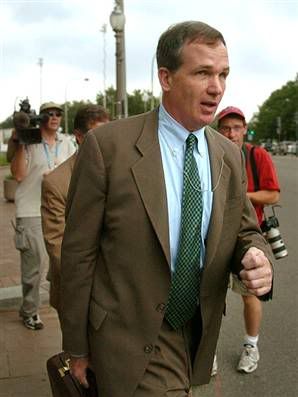 Let me just state for the record that it is
NOT
normal that I jump
every single time
the "breaking news" music plays on CNN. I can barely stand this.
Patrick Fitzgerald's grand jury convenes today. As I understand it, Mr. Fitzgerald must have a quorum to take any action (e.g., issue indictments). All the legal and political talking heads on CNN and MSNBC are saying that Mr. Fitzgerald would most likely take whatever actions he's going to take with an abundance of caution in mind. In other words, Mr. Fitzgerald would be unlikely to wait until Friday, the day the grand jury expires, to issue indictments - the possibility, for example, that a quorum could not be achieved on Friday would create HUGE issues - the grand jury would expire without Mr. Fitzgerald having extended it and without the necessary quorum to issue indictments. So, logic has it that if he's going to do something indictment-wise, he'll do it today rather than wait until the last minute.
The Washington Post is reporting (as is virtually every other major news outlet with the exception of Fox News, perhaps) that Bush Aides Brace for Charges. From the article:
In a possible sign that Fitzgerald may seek to charge one or more officials with illegally disclosing Valerie Plame's CIA affiliation, FBI agents as recently as Monday night interviewed at least two people in her D.C. neighborhood. The agents were attempting to determine whether the neighbors knew that Plame worked for the CIA before she was unmasked with the help of senior Bush administration officials. Two neighbors said they told the FBI they had been surprised to learn she was a CIA operative.
What's the point of that, you may ask? Well, it's important for Fitzgerald to establish that Ms. Plame did, in fact, seek to conceal her covert status.
And this nice summary:
Fitzgerald's investigation has centered on whether senior administration officials knowingly revealed Plame's identity in an effort to discredit a critic of the Bush administration -- her husband, former ambassador Joseph C. Wilson IV. On July 6, 2003, Wilson accused the administration in The Washington Post and the Times of using flawed intelligence to justify the war with Iraq. Eight days later, Novak revealed Plame's name and her identity as a CIA operative.
I have a lunch meeting today. I have the luxury of working from home as I choose (which I do about half of the time) and on days like this, I can have CNN on in the background while I work, and I DO work. But today I have this lunch meeting which is going to entail that I actually leave the proximity of the TV for a period of time. Today. While the grand jury meets. The day that could forever more be known as Fitzmas.
So I have a favor to ask of anyone reading this - if news breaks between noon and 2pm EST, please please please leave a comment with a summary to this post. If you do, I'll get it on my Blackberry. :-) Sounds like at least a semblance of a plan.