Sunday, October 09, 2005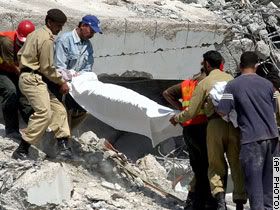 The death toll in India, Pakistan and Afghanistan from yesterday's magnitude 7.6 earthquake is unbelievable. MSNBC was reporting 30,000 dead this morning. CNN has a more conservative figure of 20,000. When I went to bed last night the death toll was 1,200. My God.
Another thing that caught my eye on MSNBC this morning was the fact that Pakistanis were nearly rioting in some areas, desperate and unsatisfied with the relief response into the affected areas. Pervez Mussharaf this morning issued an urgent request for Pakistani expatriots to give generously to the relief efforts. He also made a desperate plea for assistance from other nations. Helicopters are particularly needed. It is unclear what relief assistance
Condoleeza Rice has offered
but she made a public offer of assistance and solidarity in helping those affected recover from this prolific disaster.
One thought I had yesterday was the precarious position Pervez Mussharaf holds in Pakistan, a predominantly Islamic country with nuclear capability. I have long thought that one of our top priorities in assuring
our
safety should be to protect Mussharaf - God forbid his government is overtaken by more radical factions. As such, the tenuous situation with relief efforts worried me. We don't need to stand idly by while another New Orleans happens in Pakistan - it could lead to unrest and issues within the Pakistani government and, in the extreme, could spell peril for the government and for all those who rely on a more moderate Pakistan to protect against nuclear war. Never mind the fact, generally, that radical Islamic factions would love to get their hands on Pakistan's nukes and capabilities... I hope whatever help we are offering we are providing in earnest to ensure a successful response by Mr. Musharraf.