Wednesday, November 30, 2005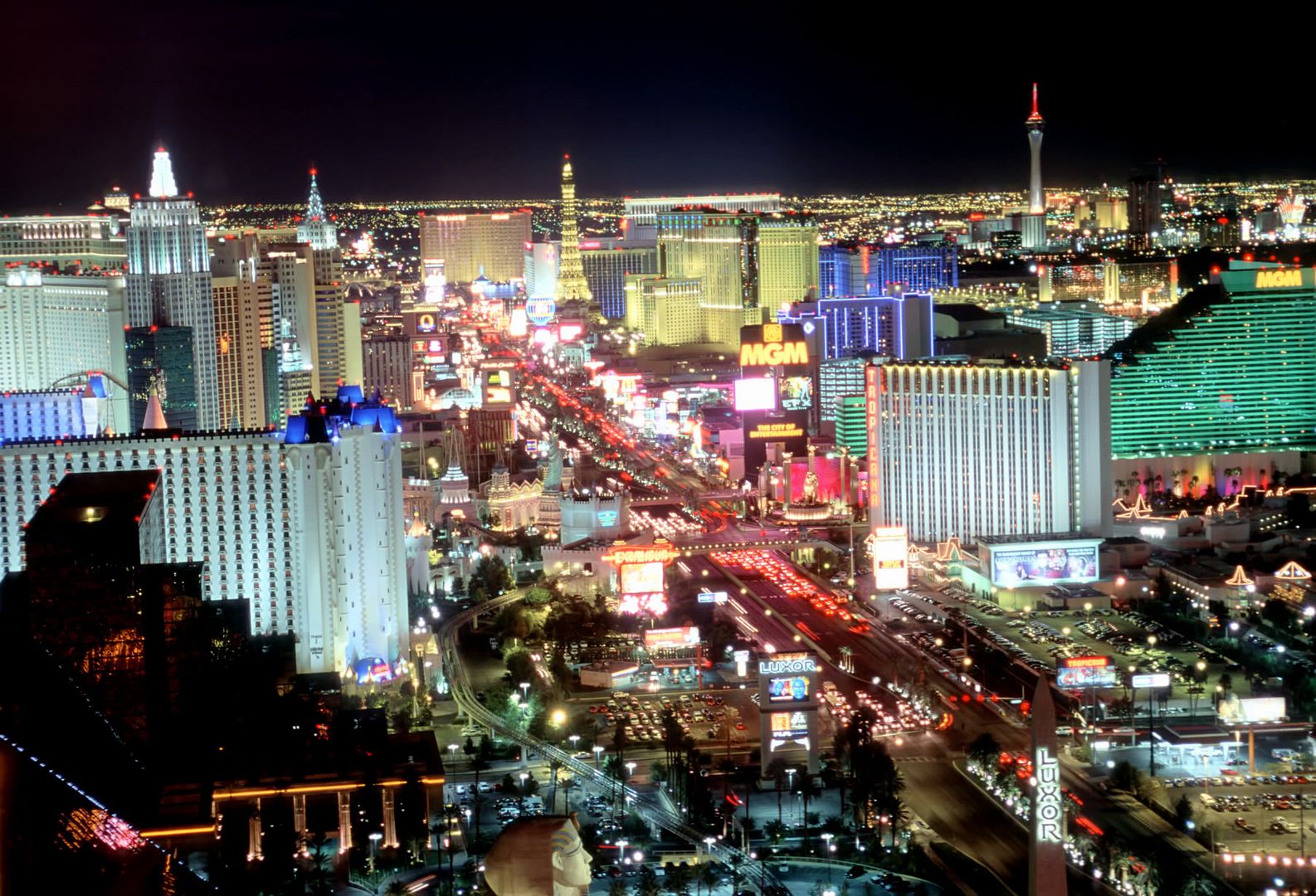 Some people go home for Thanksgiving. Some people stay put and have a quiet dinner or host family for the holiday. My husband and I went to Las Vegas. Just because. This entry is about the trip. I'll detail the particulars and then give you some commentary (of a political nature) on the things I saw while I was there.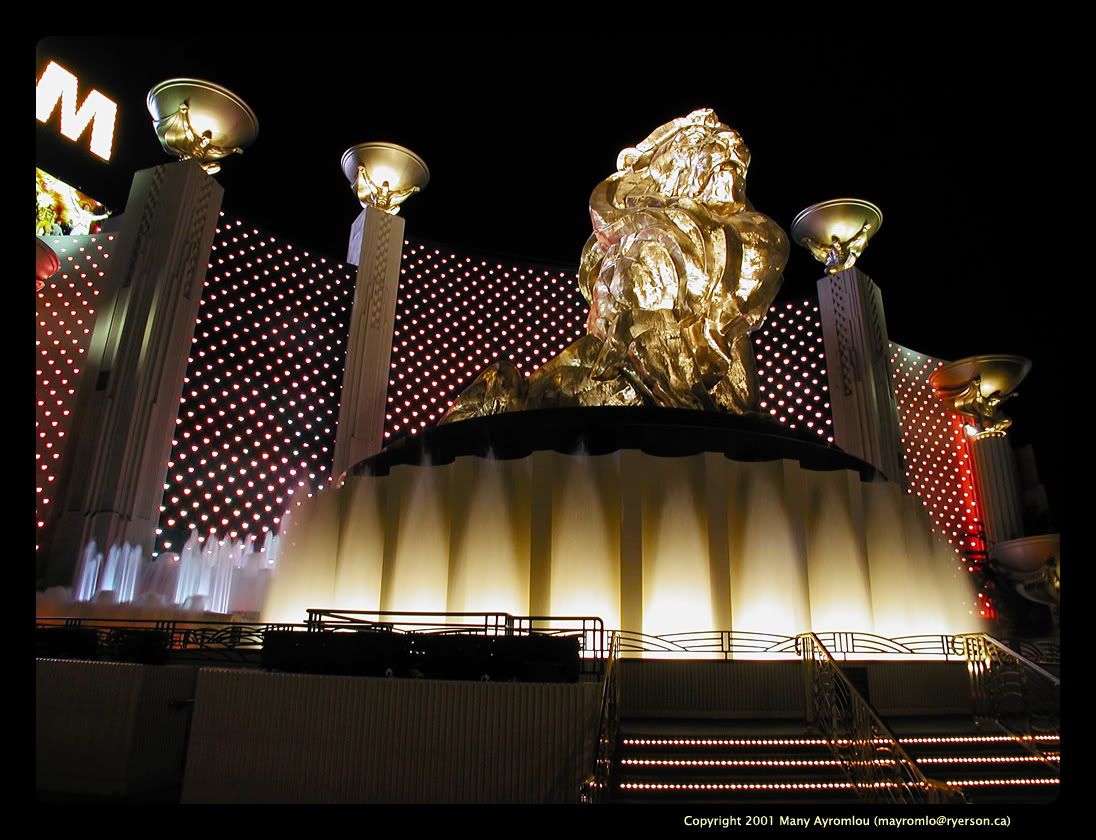 We flew into Vegas on Thanksgiving day. Our plane landed at about 10:45am local time and we caught a taxi to our hotel, the MGM Grand. The MGM was lovely and within our price range - we booked one of the smaller suites there and while it certainly wasn't inexpensive, it didn't break the bank.
We were very early for check-in, but they had a room available and ready for us so we jumped on it. It was very nice - the bathroom was huge (I mean huge - two vanities, a full bathtub, a separate shower, etc.) and all decked out in marble. There was a very large sitting area with a couch and chairs as well as a wet bar and a dining area. The bedroom was separate and was also spacious. Overall, we were very pleased.
We had plans made well in advance which involved dinner reservations each of the two nights and a show each of the two nights. The first night's dinner (Thanksgiving)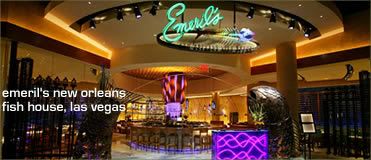 was at Emeril's Fish House in the MGM Grand. It was outstanding. If you're a wine drinker, this is your kind of place with over 1500 bottles from which you can choose. The service was absolutely impeccable and the food was to die for. I highly recommend this as a stop if you're heading to Las Vegas, but be sure you make reservations in advance - you'll need them.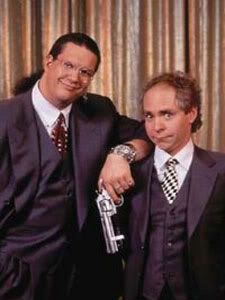 From there we headed to the Rio (slightly off the strip) to see Penn and Teller. The show officially starts at 9pm but we were there at 8:30 and I recommend going early and taking it all in. You'll have an opportunity to go up on the staege and there is a piano player and upright bass player to which you should pay atention - I won't give away any more than that. The show itself was quite excellent. T say that it's obvious that Penn and Teller have a political point of view would be an understatement - their politics make their way into their act in subtle ways. They also peel back the covers on some of the way they do certain tricks and give the audience insight into how things are done and uncover the illusion. At under $100 per ticket it was a great, fast-paced show and also one I highly recommend.
Friday during the day was for walking around. We walked the strip. Of note, we walked around both the Bellagio and the Wynn casinos. The Bellagio is beautiful, but the Wynn made it look like a Motel 6, imo. It's worth a stroll through both just to take in all the finer details and the opulence of the surroundings. There's a reason both of these cost big money (big for the Bellagio and HUGE for the Wynn). We also purchased an all-day monorail pass and rode it from end to end - the MGM, our hotel, was at one end and the Sahara and Stratosphere were the other. NOTE: even though the monorail is convenient and gets you close to other areas you may want to see, you WILL do a lot of walking. Bring comfortable shoes for this or suffer the consequences. We decided to go to the Fremont Street experience. We didn't really know what it was except that it was the older, more original (pre-Rat Pack) part of Vegas that had been covered with an arched ceiling and turned into an attraction. I only found out after we returned that this is best seen at night - they project apparently stunning and realistic images on the overhead of this two-block span that is supposedly remarkable. Regardless, even in daytime you got a feel for the way "old" Vegas was - the size of the casinos, the layout, etc. It was a good use of an hour or so. Note: the tour books will tell you to take the monorail and hop on a bus to get to Fremont Street. Take the monorail and catch a cab - the Las Vegas city bus was totally disgusting.
We relaxed a bit after making it back ot the hotel and then got ready for that evening's entertainment. On the agenda first were dinner reservations at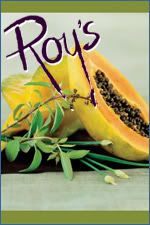 Roy's, a Hawaiian-fusion restaurant of world-wide repute. It was lovely. The service, though, was not as sharp as that at Emeril's and while the food was excellent, Emeril's spoiled us. After that we caught a taxi back to the MGM Grand for our tickets to Ka, Cirque du Soleil's newest permanent show in Las Vegas. Let me state for the record that I have seen every touring Cirqque show - Saltimbanco, Allegria, Quidam, Dralion and Varekai. With the exception of Dralion which was only good, the others were stunningly outstanding. To say that Ka was what I was most looking forward to would be a huge understatement. It was a HUGE disappointment. It was very different than the travelling Cirque shows, focusing less on the spectacular speciality acts and music of the tent shows and more on the story and the mechanics of the staging (which was remarkable - but you could only ooh and aah the stage for so long before it was "so what?"). The tickets were expensive and I looked at my watch at least two times because it was, well, just boring. Save your money and go see Blue Man or stick with Cirque's Mystere. I would have been better entertained watching a movie in the suite. What a bummer.
It was definitely worth it to see Las Vegas. And you have to play to win - one of the meals was outstanding as was one of the shows. The second meal was really good and the second show really stank. But what leapt out at me had little to do with shows and dining and what have you. It's what I wound up referring to as the "WalMart Nation". First, it's important to note that Vegas was packed over the Thanksgiving holiday. The Bell Captain at the MGM said that they have three super-busy times during the year, in order:
New Year's
March Madness
Thanksgiving
I don't enjoy crowds. At all. I don't go to malls because I don't enjoy crowds. I don't go to amusement parks on Labor Day weekend because I don't enjoy crowds. You get the picture. You couldn't stand still in one spot in any casino without getting knocked into - it was simply packed.
As we're walking through one of the shopping concourses in one of the casinos, we were passed by a group of people on scooters. When I say "scooter", I want you to picture the chairs on wheels that you sometimes see disabled people driving through malls and grocery stores. Only these were rental scooters. The people on them were NOT disabled. They were overweight and should have been walking. Before anyone unleashes a ration of shit on me, let me say that I do not dislike overweight people. I was an overweight person for years. And I should have been walking then, too. The thought occurred to me as I watched them that there was some kind of parallel to social issues which challenge us more and more every day in America. The fact that diabetes is the fastest-growing disease in the US is not new information. The fact that it's caused by too much fast food and too little exercise and a generally sedentary and complacent lifestyle (in most cases - again - not trying to beast on diabetics) is also not anything earth-shattering in terms of realization. As they passed me on their scooters and I had the random thought that they should be walking, I wondered in a more in-depth fashion how we are going to pay for all the health issues that our over-consuming society and lifestyle seems to encourage. Health care costs are certainly on the rise and it's not as if it's realistic to expect that every person with a health concern is going to have the means and/or the insurance to have it properly addressed.
So that was one revelation. In an effort to get off of our feet my husband I spent some time on our last, long day (we were homeless, having checked out of the suite at 11am and given that we weren't leaving until our 10:45pm red-eye flight) sitting in various lounges in various casinos watching the human traffic stream by. What struck me as we walked around and then sat was another parallel to what I think is a societal issue engrained in virtually every aspects of our lives as Americans. That parallel was the message to CONSUME. To buy this - to bet that - to spend this - to get that. Every single corner you turned in Las Vegas was about money and about spending it. If you go to Las Vegas and don't feel like you spent too much (I know I feel that way, and I gambled the sum total of $5.50 and lost every cent), you haven't really been to Las Vegas. I'm sure there were many, many people there who could not afford to be there. But the lure of the money and the lights and the messages all around telling you to SPEND are just too much. It's just what you do in Las Vegas and, I think to a larger extent, in our every-day American lives. Our economy depends on it. Yet we can't keep consuming and spending and charging without our metaphorical chickens coming home to roost. Look at the rising proportion of consumer debt and consider that our savings rate, as a nation, is flat and trending towards negative.
Don't get me wrong - we enjoyed our trip because it was something that has to be seen in all its beauty as well as its ugliness. But it was WalMart Nation - a phenomenon which says, to me, that a very few people make a very obscene sum of money while the vast majority of "the rest of us" get poorer, unhealthier, and accumulate mounts of crap we don't need.
My version of an odd travelogue - for what it's worth.