Monday, November 14, 2005
So I do my best to read comments that people are kind enough to leave on my blog. I also like to check out the blogs of my commenters... I had a gentleman who goes by
Christian Prophet
leave a comment on my post about
Pat Robertson's latest verbal gaffe
.
Christian Prophet
left a not uncalled-for comment that Pat Robertson should not be the way I judge all Christians... I agree. So I went to
Prophet's blog
and left a comment
here
. I saw that another person -
Jim
- had left a comment as well. So I went to his blog,
My Boring Best
, and checked it out. Short story long, I came across this picture which I thought was a screaming hoot: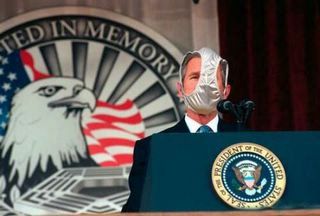 Jim gives credit to Brandy for the picture.
I was so tickled by the picture that I posted it in the Open Thread over the weekend at Daily Kos. Three of the comments were priceless:
(Runners-up)

See? It's not torture.

"Since I no longer have clothes, I'll hide in my panty fort."

(Winner)

Son, is that a panty on your head?
That last is a line from the hysterical and classic Raising Arizona. I almost choked on my own tongue when I read it.