Monday, September 26, 2005
Reflecting on the March
Anyone who stops here knows that I'm a roving member of the blogosphere. About 75% of the stuff I write over here is posted as a diary on
Daily Kos
. It's nice to post it on such a large site where, occasionally, what you've written really resonates with a large community and you reap the benefit of their comments.
I was really surprised when I finally got home last night after the protest and saw a host of diaries posted by other users about the media coverage of the protests, particularly the DC protest. I'm not knocking their point-of-view at all - generally, they were posting about what little coverage they saw on C-SPAN. As near as I can figure out, C-SPAN had a fixed camera on the pre-march rally. There were a host of speakers at the rally as well as some music playing through the PA system when they had a break in the program, but, generally speaking, only a smallish minority of marchers were actually listening. Many more were getting their anti-war anti-Bush message out, getting ready to march, finding groups with whom they would march, etc. and so forth. In short, the C-SPAN coverage, probably inadvertently, painted a picture of the march that was wholly inaccurate. I'll share my impressions with all of you fine folks here.
First, my overall impressions. Attendance was huge. When the blogger contingent initially gathered at the Elipse, I was concerned (for those who don't know the area, we were in a large open area at the corner of 15th St. NW and Constitution Ave. NW). Although there were a lot of people there, it just seemed sparse. Then movement caught my eye... 15th Street was completely packed with people, as far as the eye could see. Constitution Ave. was the same - packed. Shoulder to shoulder. Signs. People. Music. Many had skipped the rally and gone stright to forming up for the march itself.
The rally had speakers and novelty performers and more speakers and music and more speakers. Jesse Jackson spoke - I caught that much. Cindy Sheehan spoke briefly and I caught that, too. I didn't hear any of anything else on the stage and I found out much later that that was what C-SPAN was televising. Apparently some of the speakers rubbed some of the viewing audience the wrong way.
Here's what I saw: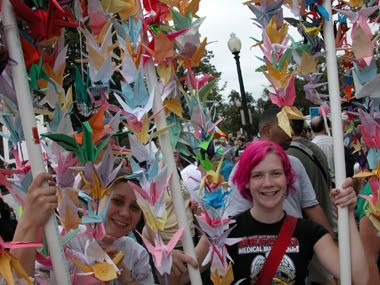 (Photo Courtesy of timroff)
Look at the young faces - and look at the origami they've made to commemorate the march.

(Photo Courtesy of timroff)
People from all walks of life attended. I was really thrilled to see what looked like hoardes of college students - serious and organized college students. They had a purpose for being there.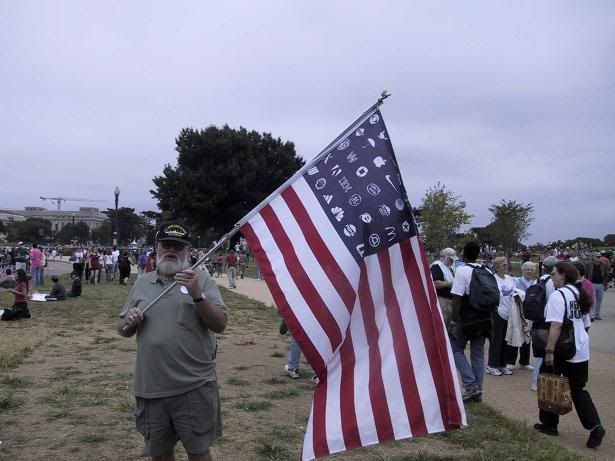 (Photo Courtesy of OnStarboardTack)
Check out this guy - look carefully at the area of the flag where the stars would normally be. I was shocked at how true that rang for me.

(Photo Courtesy of OnStarboardTack)
Funny, but somehow a most fervent wish.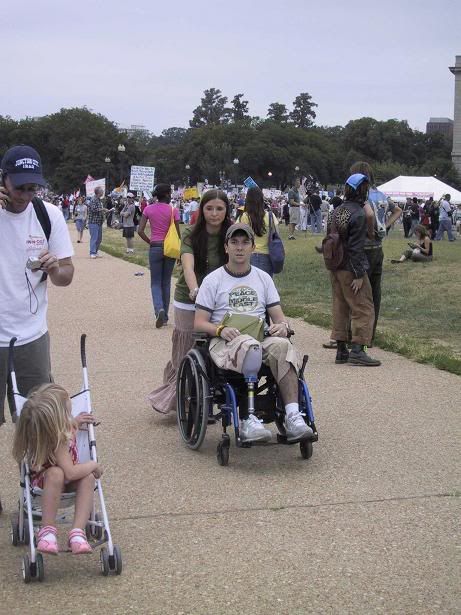 (Photo Courtesy of OnStarboardTack)
You have to wonder what this young man's story is. Seeing such a young man at such a march really connects you to the young men and women who have survived the war itself and now endeavor to survive a fundamentally changed life.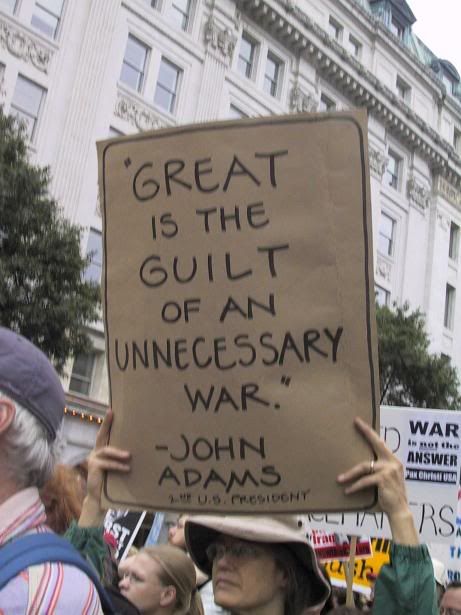 (Photo Courtesy of OnStarboardTack)
The signs were amazing. They were really thought provoking and many of them, like this one, were educational.

(Photo Courtesy of Son of Broccoli)
I was struck by the breadth of people who marched. They really did represent all walks of life - all age groups, all races, all income brackets - a hoarde of concerned Americans.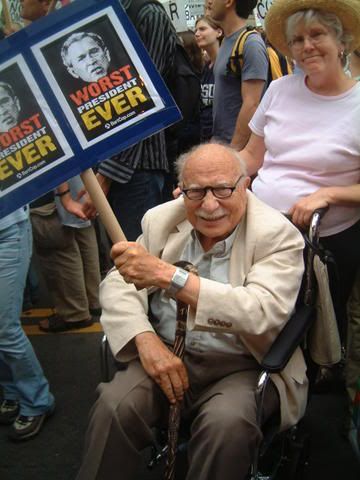 (Photo Courtesy of Dem In VA)
This was my favorite moment. I walked next to this gentleman for quite some time. He was being pushed by his daughter or granddaughter. He is 88 years old. He marveled in all the children who marched - there were a few priceless moments where he would be speaking to a young child, perhaps 4, and you could see how much he loved being there and seeing everything that he saw around him. He was taking it all in. THAT man is what this march was for me.

posted by RenaRF at 4:30 AM