Monday, December 12, 2005
I don't know what's wrong with me these days. Perhaps it's holiday stress; perhaps it's personal stress; perhaps it's work stress - or some lethal combination of the three - but I totally lost it as I was driving on the Washington DC beltway today.
No, I didn't pull out a shotgun and commit roadrage - I didn't run anyone off the road or ram another car in anger (been there, done that - totally different story - ask me sometime). But I still lost it.
This is what set me off:

More after the flip.
The DC beltway is not for the faint-of-heart, particularly any time between the hours of 6:30am and 7:30pm on any weekday. People are in a constant rush. Getting anywhere, even anywhere close by in Washington DC is a total crap shoot. And, granted, I'm not the most patient driver in the world. I have absolutely no patience for anyone going slower than I want to in the left-hand lane. My basic approach is this: everyone's the enemy and they're all out to get in your way and slow you down. Therefore I drive way ahead and seek to maneuver (safely, mind you) around people who are obvious bottlenecks in the flow of traffic.
Today I got behind a guy in a big-ass Suburban. It was one of the older ones - kind of maroon but really dirty from all the chemicals and salt they've used to clear the roads of ice and snow lately. He was doing about 65 in the left hand lane of the beltway and I like to go about 75. The other three lanes were all moving along at about 63mph - just slow enough that I wouldn't accomplish anything by switching lanes yet just fast enough to never actually be passed by Mr. Suburban. I was stuck. Under the layers of dirt on his bumper his sticker caught my eye - "Sportsmen for Bush". It was in good shape - not old or faded or cracked.
My eyes flashed at the back of the Suburban in anger and I said, out loud, "It's your goddamned fault you idiot." No one else was in the car with me. I said it loud. A hole opened up in the lane next to me to get around this guy and continue on my merry way. I went for it - hit the gas etc. - but slowed down just long enough when I was abreast of him to flip him a very visible bird. He probably thought it was because I wanted to pass him - but it wasn't. It was because he voted for Bush.
It was more than that, though, and my gesture-inducing rage made me pause and think for a bit once I was moving along. I can understand, I suppose, having voted for him in 2000. I didn't, I wouldn't have (and didn't) advise anyone else to vote for him, but hey - he got elected because some proportion of people voted for him. Although it's a stretch, I can even, if I squint and concentrate really hard, understand a tepid but grudging vote for him in 2004 - stay the course - don't change horses - all that stuff.
I guess what I'm saying is that I can forgive poor decisions if, once realization is achieved, the decision is regretted. But the presence of these stickers on these cars around the Washington beltway doesn't indicate a hint of regret.
So as I'm driving along, pondering that, I get behind another big-ass vehicle going more slowly than my preference in the left-hand lane. I'm hip now - I'm looking for these bumper stickers - and this is what I saw: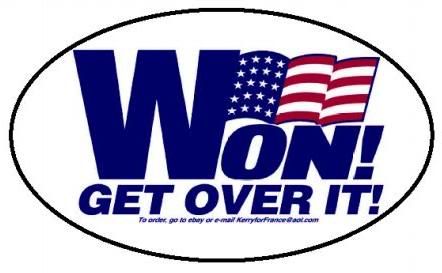 On the bumper of a shiny, garage-kept banana-yellow Hummer H3. The sticker itself was sparkling, just like the car. It occurred to me, as my rage flashed, that the H3 is brand new model vehicle. That means that the owner of that shiny, gas-guzzling, garage-kept H3 (who was a woman, by the way, not that it matters) went out of her way to ensure that that sticker made it onto her new car. This wasn't some January or February 2001 sticker - this was I-put-it-on-in-the-last-few-months sticker.
I flipper her off as I went around her, too.
As I crossed the bridge back into Virginia I was thinking about all the wonders of the Bush administration:
Intelligence failures

Asleep at the switch

Manufactured a war in Iraq

Cut taxes for the rich

Exported middle-class jobs

Pandered to the Corporations

Tortured human beings

Trampled human rights

Made hate-trading common political practice

[Insert on the 1,000 other things I don't have time to mention here]
If you voted for him, wouldn't you at least have the decency to be embarrassed by him, to scrape off the stickers that are emblematic of your support for him, today, after everything that's happened???